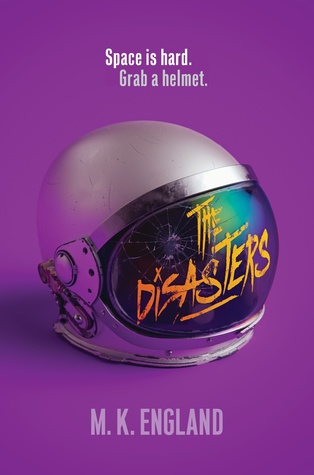 The Disasters
By M. K. England
Harper Teen, 2018
I won a copy of an ARC of The Disasters by M. K. England through Literary Rambles, an 'everything literature' blog by Natalie Aguirre. SPOILER ALERT
Blurb From Goodreads:
Hotshot pilot Nax Hall has a history of making poor life choices. So it's not exactly a surprise when he's kicked out of the elite Ellis Station Academy in less than twenty-four hours.
But Nax's one-way trip back to Earth is cut short when a terrorist group attacks the Academy. Nax and three other washouts escape—barely—but they're also the sole witnesses to the biggest crime in the history of space colonization. And the perfect scapegoats.
On the run and framed for atrocities they didn't commit, Nax and his fellow failures execute a dangerous heist to spread the truth about what happened at the Academy.
They may not be "Academy material," and they may not get along, but they're the only ones left to step up and fight.
Book Report
I truly enjoyed reading The Disasters. Nax is a mix of Captain Kirk and Han Solo-rebellious, risk-taking, and flying by the seat of his pants. Oh, and don't forget skilled and able to creatively solve problems. The rest of the cast was just as interesting and unique. These failures who were kicked out of Ellis Station Academy formed a team capable of trying to figure out what to do to help, well, the Universe.
What I loved: I enjoyed the characters and the setting of post now. I found it intriguing that once humans left the area, they were unable to ever visit Earth again. I loved the mystery and thrill of bad things happening, evil plans, and plot twists. The living in outer space setting was fun and I might have learned a few new things.
I found the writing to be smooth, engaging, and page-turning. I think I finished the book over 2-3 evenings. Just couldn't put it down.
Thanks to M. K. England, Literary Rambles, and Natalie Aguirre. Great read!
You can read the interview over at Literary Rambles here.